Bowness, or Bowness-on-Winderemre lies just to the south of Windermere, in the south of the Lake District, Cumbria. As its name suggest, it borders the lake at Windermere itself, and is a very popular tourist destination, with a good range of shops, bars and restaurants, as well as a centre for Lake based activities.



Featured self-catering property of the week in Bowness
| | |
| --- | --- |
| | Helm Farm, Bowness, 4 self-catering cottages on the organic Helm Farm in Bowness, near Windermere, Cumbria, The Lake District. Cottages sleep 2-5. On the edge of farmland through which there is a good network of footpaths. Please click on the link for more information on Helm Farm, Self-catering cottages in Bowness, Windermere |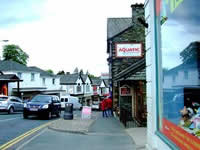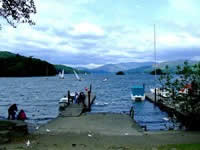 We are currently in the process of updating this page for Bowness. If you would like to contribute material or pictures to this, please email us. You can also add local attractions or pictures.
In the meantime, please just click on the links for the full range of holiday accommodation, from five star luxury hotels in Bowness, to good Bowness bed and breakfasts and Guest Houses and fabulous self-catering cottages in the Bowness area. There is a huge range of attractions, places to eat and other activities to suit all tastes.

Lovetoescape.com aims to provide a one-stop shop for holiday makers by providing easy an easy to use directory and information portal for all types of holiday accommodation and attractions in the UK.
Most Recent Holiday Accommodation in Bowness-on-Windermere
4 self-catering holiday cottages at Helm Farm in Windermere, Cumbria, The Lake District. These Lake District cottages are on an organic farm in Windermere. The holiday cottages sleep between 2 and 5 people. Ideal for both Bowness and Windermere.
Sleeps: 5
175.00 GBP - 770.00 GBP / per week
2 Bedrooms, 1 Bathroom
Bowness-on-Windermere Cottages
Details | Send Email Enquiry | Add to My Shortlist
Deloraine Birch Cottage is a family cottage has been extensively converted and enlarged from a traditional Lakeland stone building. Located in the heart of the Lake District National Park. Self catering accommodation for up to four people.
Sleeps: 6
290.00 GBP - 560.00 GBP / per week
2 Bedrooms, 1 Bathroom
Bowness-on-Windermere Cottages
Details | Send Email Enquiry | Add to My Shortlist
UK Accommodation of the Year. Luxury Four Star Establishment with Lake View, Four Poster and Family Rooms. Located in Bowness-on-Windermere only a short stroll to the Lake Shore, Bars, Restaurants, Lake Steamers, Beatrix Potter Attraction and Shops.
Sleeps: 30
32.00 GBP - 65.00 GBP / pppn
18 Bedrooms, 18 Bathrooms
Bowness-on-Windermere Hotels
Dog Friendly Hotel
Details | Send Email Enquiry | Add to My Shortlist
Welcome to The Angel Inn, a Lake District retreat with City Chic Style. The Perfect place to eat, drink and relax, only different. Offering high quality B&B in Bowness, only 5 minutes walk from Windermere. 14 bedrooms, offering B&B and evening meals.
65.00 GBP - 200.00 GBP / per week
13 Bedrooms,
Bowness-on-Windermere Guest Houses and B&Bs
Details | Send Email Enquiry | Add to My Shortlist
Large semi-detached house offering 4 self catering holiday apartments. Located in the Lakeland village of Bowness-on-Windermere, Cumbria, the Lake District. Sleep 2-6 guests. Pets welcome. Fully equipped kitchens, TV, freeview and DVD. Wifi available
Sleeps: 6
220.00 GBP - 540.00 GBP / per week
3 Bedrooms, 1 Bathroom
Bowness-on-Windermere Holiday Apartments
Dog Friendly holiday apartment
Details | Send Email Enquiry | Add to My Shortlist