Advertise Your Accommodation or Business
Advertise Your Accommodation or Business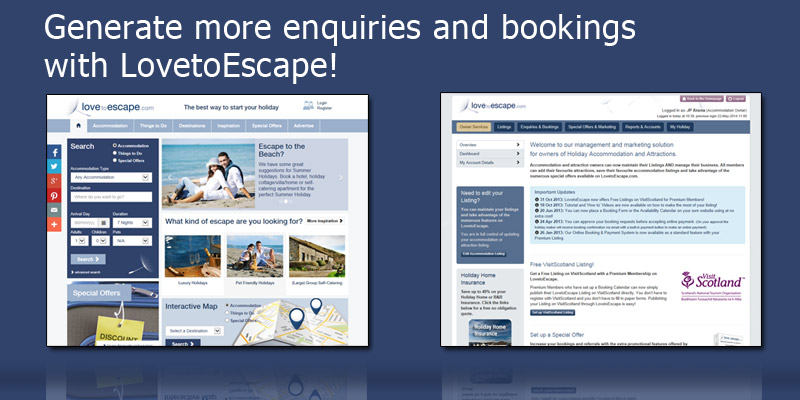 Try before you Buy
Register without obligation, and build your listing page. You will be able to use all of our powerful editing tools to see exactly how your accommodation would be seen by the public on LovetoEscape - before you pay a penny.
GET STARTED
Advertise your Accommodation and/or Business on LovetoEscape today!
Here's how LovetoEscape can help you as a business and/or accommodation owner
We have plenty of reasons that make advertising your business and/or accommodation on LovetoEscape a great investment. Whether you have a holiday attraction, a shop, a restaurant or bar, we have many Holiday Makers actively seek accommodation with plenty of things to do around. Of course you can also promote all kinds of accommodation, like holiday cottages, holiday homes and villas, holiday apartments, hotels, B&B's and Guesthouses etc.
---
LovetoEscape - The best way to...
• ADVERTISE YOUR BUSINESS and/or ACCOMMODATION
• MANAGE YOUR BUSINESS & SAVE ON ADMIN TIME
• KEEP TRACK OF VISITORS
Thousands of Owners Trust us to Promote their Business
See what our happy customers have to say about LovetoEscape
"Many thanks to the technical team for their recent help fixing problems with the mobile version of our web page.
This is just an example of how Love to Escape has helped us from the beginning with our new business, to where we are now!
With an amazing array of strategies, Love to Escape has worked with us all the way,with even the latest 'Payment Online' taking away all the stress and hassle, and helping greatly in the overall running of our business."

"I have been using LovetoEscape's online payment facility for a couple of weeks and think it's a great facility for busy accommodation owners and holiday makers.
I am now fully booked for August through online payments."
---
IN PARTNERSHIP WITH