The small village of Patterdale lies at the southern end of Ullswater, surrounded by some of Lakeland's finest scenery. It is also home to the Patterdale Village Store and Post Office.



Featured Holiday Cottage in Patterdale



| | |
| --- | --- |
| | Willow cottage, in Hartsop, near Patterdale. 4 star luxury self-catering cottage in 17th Century converted barn in Hartsop, near Patterdale and Ullswater, the Lake District. Beautiful stylish interior and lovely views of the fells. Great walks from the door. Sleeps 3. Dogs welcome. Please click the link for more information on Willow cottage, self-catering cottages near Patterdale and Ullswater. |



Featured B&B in Patterdale



| | |
| --- | --- |
| | Styan Bew B&B, in Hartsop, near Pattrerdale. Friendly and comformatable bed and breakfast accommodation with panoramic views of the fells. Ideal location close to Patterdale and Ullswater. One ensuite room which can be a double or twin room. Perfect romantic holiday for couples, or ideal for friends walking in the lakes. Please click the link for more information on Styan Bew B&B, quality B&B near Patterdale and Ullswater. |


Legend has it that in the 15th century St. Patrick, having been marooned on Duddon Sands, walked 30 miles overland to this valley and gave Patterdale it's ancient name of St. Patrick's dale. There is a well dedicated to the saint by the roadside at between Glenridding and Patterdale. The pretty village church was built and named St. Patrick's in 1853.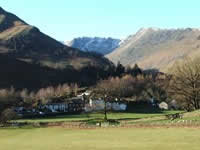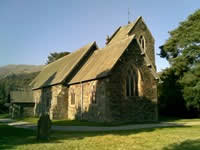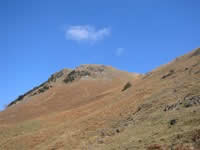 Situated directly on the route of the world famous Coast to Coast walk, Patterdale caters for all levels of Lakeland enthusiasts. The great benefit for most is that you access the fells and lake straight from the village, with no need to use a car. For the casual walker the ullswater steamers sail to various points of the lake allowing a gentle walk around the shoreline. For the more adventurous Helvellyn, Place Fell, Sheffield Pike and St Sunday Crag are all close by.

It was the area around Patterdale that inspired Wordsworth to pen his famous poem in 1804.

I wandered lonely as a cloud
That floats on high o'er vales and hills,
When all at once I saw a crowd,
A host, of golden daffodils;
Beside the lake, beneath the trees,
Fluttering and dancing in the breeze.

Daffodils flourish in the area as one of the few plants not eaten by sheep! Wordsworth is also said to have been drinking in the White Lion Inn, when he first heard of Nelson's death at the Battle of Trafalgar.

Also home to the Patterdale Mountain Rescue team - like all of the groups entirely reliant on voluntary donations and well worth supporting as you never know when you might need them!







Lovetoescape.com aims to provide a one-stop shop for holiday makers by providing an easy to use directory and information portal for all types of holiday accommodation and attractions in the UK.

Most Recent Holiday Accommodation in Patterdale
Self-catering holiday cottage in Glenridding, Ullswater. This Lake District cottage has spectacular views over the surrounding fells. Close to Ullswater and Helvellyn. Pets welcome. Sleeps 4. Wood burning stove. Walks from the door.
Sleeps: 4
295.00 GBP - 695.00 GBP / per week
2 Bedrooms, 1 Bathroom
Patterdale Cottages
Dog Friendly holiday cottage
Details | Availability | Send Email Enquiry | Add to My Shortlist
Detached bungalow in superb location in Patterdale in the Lake District. Quality self catering holiday accommodation sleeps 3 people. Patio Garden to front and rear. Views of the fells. Close to Ullswater and Helvellyn. Short breaks ALL YEAR.
Sleeps: 3
250.00 GBP - 650.00 GBP / per week
2 Bedrooms, 1 Bathroom
Patterdale Cottages
Dog Friendly holiday cottage
Details | Availability | Send Email Enquiry | Add to My Shortlist
A cosy 3 star graded cottage for 3 people in the beautiful, unspoilt hamlet of Hartsop in the heart of the Lake District. An ideal walker's property with many high and low level walks straight from the door. One small dog welcome.
Sleeps: 3
230.00 GBP - 360.00 GBP / per week
1 Bedroom, 1 Bathroom
Patterdale Cottages
Dog Friendly holiday cottage
Details | Availability | Send Email Enquiry | Add to My Shortlist
Willow Cottage Hartsop, luxury 4 star gold self-catering cottage-appartment in converted stone barn in Hartsop, near Patterdale and Ullswater, the Lake District. Beautiful stylish interior and lovely views of the fells. Great walks from the door.
Sleeps: 3
340.00 GBP - 530.00 GBP / per week
2 Bedrooms, 1 Bathroom
Patterdale Cottages
Dog Friendly holiday cottage
Details | Availability | Send Email Enquiry | Add to My Shortlist
A cosy 4 star gold, Grade 11 Listed cottage built in 1670, nestled in a beautiful location at the foot of Place Fell in the picturesque village of Patterdale, offering 4 individually decorated bedrooms with contemporary en-suite bathrooms.
Sleeps: 6
455.00 GBP - 950.00 GBP / per week
4 Bedrooms, 3 Bathrooms
Patterdale Cottages
Details | Send Email Enquiry | Add to My Shortlist