Scotland on Film
It has not been long since Hollywood fully woke up to the fact that Scotland is the finest movie set on the planet – something that those of us who are lucky enough to live and work here have known for some time!
It has not been long since Hollywood fully woke up to the fact that Scotland is the finest movie set on the planet – something that those of us who are lucky enough to live and work here have known for some time!
The BFG
Scotland's islands provided dramatic landscapes and seascapes for filming The BFG. Locations on the Isle of Skye and the Orkney Islands were the setting for shooting scenes from the movie. The BFG is the 2016 film adaptation of the Roald Dahl children's story, The Big Friendly Giant.

Outlander
Scotland has been showcased in Outlander TV Series, an adaptation of a hugely popular time travel romance and fantasy adventure based and filmed in the Scottish Highlands. The series was adapted from the novels by American writer Diana Gabaldon.
Fall through time into Scotland, a country that extends a warm welcome to Outlanders.
Brave
Leading the charge is Disney/Pixar's fabulous new animated adventure Brave - set entirely in the Scottish Highlands. The Scottish Government has endorsed a huge global marketing push around the launch of Brave to promote domestic tourism. The £7m marketing tie-up marks the first time Disney has teamed up with any country's tourism board, on this scale, around the launch of one of its movies.

It means that more people than ever, from home and abroad, are going to be looking for holidays in Scotland. At LovetoEscape our passion for helping better holidays to happen is matched only by our love of movies.
Brave follows the heroic journey of Merida, (Kelly Macdonald) a skilled archer and headstrong daughter of King Fergus (Billy Connolly) and Queen Elinor (Emma Thompson). Brave is an animated feature of course but many of the locations that appear in the film have their basis in reality. The eerie Callanish standing stones, on the Isle of Lewis, form the backdrop to Merida's early encounter with the witch.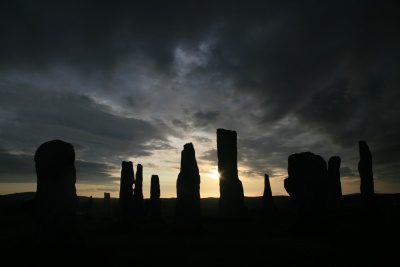 Prometheus
In addition to Brave, no fewer than three more of this summer's blockbusters have scenes filmed in Scotland. Ridley Scott's long-awaited Alien prequel, Prometheus, opens with the discovery, in a stunning location on the Isle of Skye of a map, left by an ancient civilization, which leads an intergalactic expedition to a distant moon (and inevitably to trouble).


James Bond: Skyfall
Skyfall, the 23rd movie in the James Bond franchise, features a scene crackling with ominous tension, where Bond (Daniel Craig) and M (Judi Dench), gaze across the moorland towards the head of the pass of Glen Coe – perhaps the iconic Scottish landscape.
The Film crew were awestruck by Scotland's scenery while shooting new Bond movie Skyfall on National Trust for Scotland (NTS) land.
Anna Preuss, NTS's new filming manager, said the crew were 'absolutely blown away' by the landscape and red deer stags that appeared during the shoot. (source: BBC, read more)
Batman: The Dark Knight Rises
It's not overstating things to say that The Dark Knight Rises is the most anticipated movie of 2012 – and again, a pivotal opening scene is shot in the Cairngorms National Park. It's an audacious and stunning aerial scene that opens the movie – and which also introduces us to the fearsome and calculating villain Bane (Tom Hardy).
Harry Potter
So with no fewer than four of this year's biggest blockbusters set entirely or in part in Scotland, it's safe to say that the Harry Potter franchise now has some stiff competition in attracting the tourist dollar. The record-breaking Potter franchise returned to Scotland for filming on four movies, utilizing locations across the Western Highlands (including Glen Coe, Glenfinnan, Glen Shiel and Glen Nevis) to recreate the environs of Hogwarts Castle.
Chariots of Fire
In this Olympic year, another of Scotland's star movie attractions must be St Andrews, Fife, where Chariots of Fire, which won Best Picture Oscar in 1981, was partly set. The famous running on the beach scene was filmed there, along the coast from the legendary Old Course.
Highlander
Of course, classic films set entirely in Scotland have not been slow to exploit the beauties of the landscape. Highlander (1986) involved eight shooting locations across Skye and the Western Highlands, as well as using Eilean Donan castle to iconic effect.

Braveheart
Winner of five Oscars in 1996 including Best Picture and Cinematography, Mel Gibson's Braveheart was filmed in Scotland and Ireland. The Scottish scenes were filmed in and around Glen Coe, Glen Nevis and the Mamore mountains.

Rob Roy
The contemporary release Rob Roy, starring Liam Neeson, provides a cornucopia for fans of the Scottish landscape, casting its net beyond the Highlands. It includes scenes shot, again, in Glen Coe, Glen Nevis and Rannoch Moor, as well as location shooting at four castles – Tioram, Drummond, Megginch and Crichton. The heart of Rob Roy Country is in Stirlingshire and Perthshire in what is now the Loch Lomond and Trossachs National Park.

Local Hero
While the East of Scotland can't in general compete with the West for memorable locations, a glorious exception is Bill Foryth's much-loved Local Hero (1983), which itself made heroes of the Aberdeenshire villages of Banff and Pennan – where one particular red telephone box can still be seen.
Monty Python and the Holy Grail
Quirkier and more unexpected uses of Scotland on Film also recur. If the landscape is a romantic location, it can also lend itself to parody – as when the Monty Python team chose Doune Castle as the setting for their Holy Grail legend.

The Wicker Man
Locations across Dumfries and Galloway stood in to good effect for the Western Isles in the 1974 classic horror The Wicker Man, starring Edward Woodward Christopher Lee – a movie of such cult appeal that the region's annual music festival is now named after it.
What We Did On Our Holiday
Starring Billy Connolly and David Tennant, two of the best known Scottish actors, this film explores the meaning of life from many angles and ages. It received critical acclaim as one of the best Brittish films of 2014 and plucked strongly on the heartstrings of the nation with its story of the frivolity of life. It features Scottish places such as Wester Ross, Stirling, Doune and Glasgow among others, and portrayed an image of resplendent beauty and natural wonder in Scotland.
Black Angel (1980)
Black Angel is a short film directed by Roger Christian of Star Wars Episode V: The Empire Strikes Back fame. It was filmed entirely in Scotland around the area of Eilean Donnan Castle, using only a crew of nine people, four actors, two horses and a Volkswagen bus. It is particularly interesting because the original film was lost for many decades after the collapse of Rank Laboratories, but has recently been found again, remastered and rereleased ahead of the coming Start Wars film, The Force Awakens. What it lacks in big-screen production value it makes up for in emotional dialogue, an epic story and a stunning location. You can watch the entire film below, including an exclusive introductory interview with director Roger Christian.
Other Films in Edinburgh and Glasgow
London aside, Scotland's two great rival cities of Edinburgh and Glasgow have probably played host to more location shooting than anywhere else in the British Isles. Edinburgh's austere beauty and sense of history have provided the perfect ambience for historical dramas from Hamlet to Journey to the Centre of the Earth, as well as a historical setting in its own right for Greyfriar's Bobby and The Prime of Miss Jean Brodie.
Not to be outdone, Glasgow has tended to be the location of choice for grittier fare, such as My Name Is Joe and Ratcatcher, while Bill Forsyth's comedy Gregory's Girl was filmed in nearby Cumbernauld. Danny Boyle shot in locations in both cities for his gritty and iconic '90s dramas Shallow Grave and Trainspotting, which made a star of Ewan McGregor.
Most recently the two cities have provided backdrops for eagerly-awaited adaptations of two very different bestsellers. Edinburgh's famous Festival provides one of the settings for the Anne Hathaway in the adaptation of David Nicholl's romantic One Day (2011); while Glasgow stands in for a zombie-plagued Philadelphia in the Brad Pitt horror vehicle World War Z (scheduled for release in 2012).
Scotland as film location
Over the years it's not just Hollywood's moviemakers that has taken advantage of Scotland as a location. Many successful TV series have used the stunning natural beauty of the countryside to provide a counterpoint to their human drama. Older viewers will remember with affection the theme music to Dr Finlay's Casebook, which ran on BBC1 from 1962 to 1971.
Set in the fictional town of Tannochbrae, and starring Bill Simpson and Andrew Cruikshank, Dr Finlay was actually filmed on location in Callander, the 'gateway to the Highlands', where many of the buildings featured in the series can still be found. A second series, entitled Doctor Finlay and starring David Rintoul, ran on ITV between 1993 and 1996, and was filmed in Auchtermuchty, Fife.
Younger people, on the other hand, have been drawn to the village of Tobermory on the Isle of Mull. The island saw tourist numbers shoot up in the early '00s after it was featured as a colourful backdrop for Balamory, the live-action BBC series for pre-school children.
Other notable small screen adaptations in recent years have included the quirky BBC detective series Hamish Macbeth, featuring Robert Carlyle, filmed on location in the village of Plockton, the town of Kyle of Lochalsh and the surrounding area; the long-running ITV soap opera Take the High Road, filmed in the village of Luss on the banks of Loch Lomond; and BBC's Monarch of the Glen, based on Compton McKenzie's Highland Novels, and filmed on the beautiful Ardverike Estate in Invernessshire, near Cairngorm National Park. The show's mixture of comedy and drama, its location, and its cast appealed to viewers in countries all over the world.
About LovetoEscape.com
LovetoEscape.com has been specifically designed to provide the most stress-free and accurate online 'dating agency' for accommodation owners and holiday seekers to connect.
As more people grow accustomed to researching their holidays online, they are increasingly booking according to more refined specifications – whether that means pet-friendly accommodation, disabled-access, greater luxury, or simply "Dad, I want to see where they made Harry Potter!" That is where our detailed search capabilities continue to give LovetoEscape an edge over our competitors – and why we have been described as a breath of fresh air in the world of Online Accommodation Services.