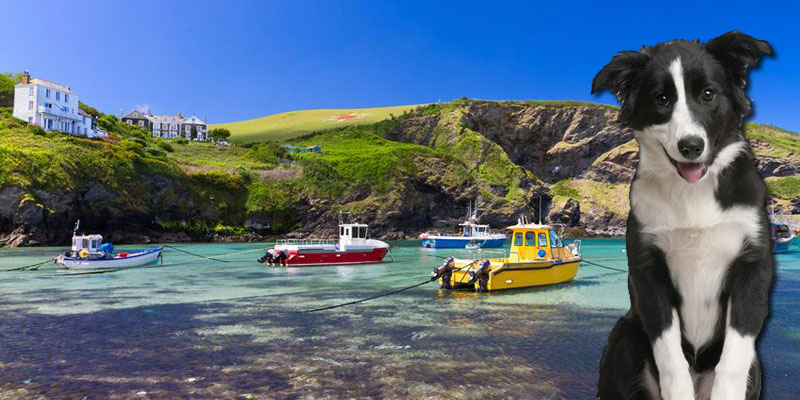 Dog Friendly Cottages Cornwall
Find your ideal pet friendly holiday cottage for you and your dog with LovetoEscape's selection of dog friendly cottages in Cornwall.
Escape with a Pet Friendly Holiday in Cornwall
Cornwall, with its picturesque harbour towns and quaint fishing villages has long been a popular holiday destination. With miles of rolling countryside and sandy beaches, Cornwall remains to be one of the top year-round regions to explore and is ideal for dog lovers seeking a relaxing dog friendly holiday.
There are plenty of great inland and riverside walks as well as woodlands and gardens to take in. Many of Cornwall's beaches are pet friendly with miles of coastal paths for you and your dog to discover. The South West's scenic coastline and beaches are breathtaking and well worth exploring, however, remember to check the rules as many Cornish beaches have seasonal restrictions during peak periods with regards to bringing your dog, usually from Easter until October however some allow dog access in the early morning and later in the evening but ban dogs on the beach during the day. Check the sign at the entrance to the beach.
Dog Friendly Beaches
Cornwall is surrounded by sea so you are never far from a great beach. To give a good example of a coastal walk visit the beach at Sennen Cove and follow the South West Coast Path. Sennen beach is a large expanse of golden sand, popular with families and surfers and is famous for Bilbo the dog lifeguard. From here you can take a 3 mile route with spectacular views to Land's End and back. Beyond Land's End you will reach Nanjizal beach which is dog friendly and worth walking the extra distance. You can vary the length and difficulty of this route as there are three options circling back to Sennen. The car park at Sennen, overlooking the beach offers good facilities. There are bars, restaurants, cafes, art galleries and shops located here.
There are many pubs throughout the region that welcome dogs or are pet friendly both inside and out. Most restaurants and cafes with outdoor seating areas will welcome dogs too. Again, just remember to ask or look for signs.
Dog Friendly Cottages and Self Catering Accommodation in Cornwall
Cornwall is a fantastic area to bring your dog and offers a range of holiday accommodation to suit, including self catering holiday homes, beachside apartments and dog friendly cottages.
LovetoEscape offers a great variety of pet friendly cottages and self catering in Cornwall to help you plan your ideal dog friendly holiday. Whether you are seeking luxury accommodation, accommodation for large groups or simply a place to stay for a short break, view our dog friendly cottages in Cornwall.
If you are looking for a pet friendly cottage elsewhere in the UK or Ireland, we have a great range of pet friendly cottages.