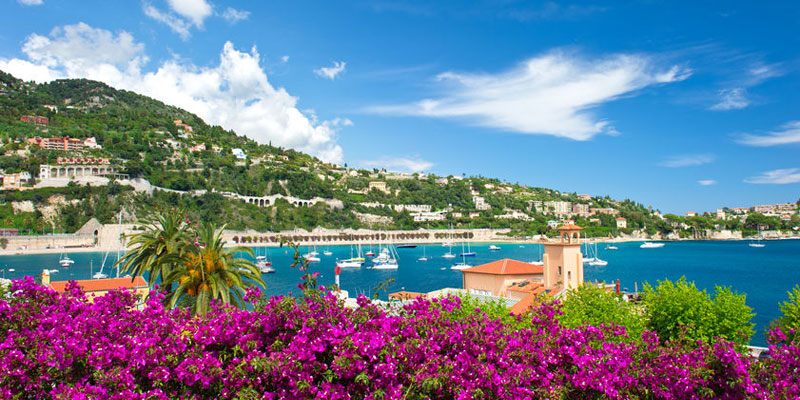 French Riviera
The French Rivera, known as the Cote D'Azur is a stunning holiday destination offering beautiful beaches, exceptional sunshine and fashionable cities. It has everything from holiday cottages and gites to farmhouses.
Explore The French Rivera
The French Rivera also known as the Cote D'Azur is the Mediterranean coastline of the South Eastern corner of France. The area benefits from a Mediterranean-type climate characterised by exceptional sunshine almost 300 days a year.
It is one of the most famous Rivera's in the world and is renowned for being the playground for the rich and famous. Along the Riviera there are many fashionable and elegant cities such as Nice, Cannes, St Tropez and Monte Carlo. There are also quaint harbours fishing villages which have become chic tourist destinations. These villages are now full of pleasure yachts and crowded summertime beaches.
This area is very popular with walkers and people who enjoy water sports, as the geography of the land and the proximity to the sea provide the perfect base for outdoor activities.
The three Corniches, spectacular coastal roads run 30 plus kilometres parallel to each other from Nice east to Monaco and on to Menton on the Italian border. The coastal roads provide impressive views of this stretch of coastline.
Nice
With around 1 million inhabitants, Nice is the fifth largest city in France. It is a booming tourist destination, featuring some excellent Town Squares, fantastic architacture and the archaic Palais de Congres Acropolis, the main governmental building. Nice is a great stop off for those voyaging to the Alps, but provides enough attractions, restaurants, bars and cafes to make for one brilliant holiday. Perfect for both families and couples/individuals.
Cannes
Cannes is made famous the world over by the well-known Cannes Film Festival. The city attracts millions of visitors each year, mostlycentred around the time of the festival. Aside from the festival, it is known for it's grandiose Stately Homes, museums and sandy beaches.
St Tropez
St Tropez is one of the worlds premiere resorts for jet Setting tourists and celebrities, and is popular for tanning and its stunning beaches. There are many watersports on offer, such as windsurfing, surfing and jet-skiing. For those looking for a sunny beach holiday, St Tropez provides everything you could need.