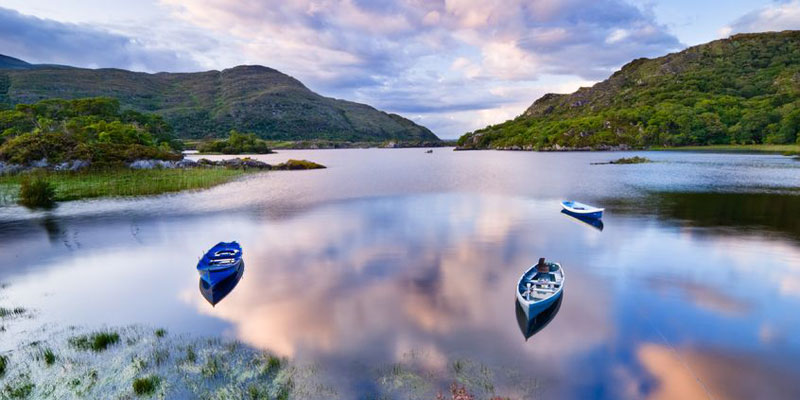 Killarney National Park
Killarney National Park is a the perfect holiday destination for for all ages, offering a range of outdoor activities and holiday accommodation. Wildlife enthusiasts can enjoy the varity of widlife.
Killarney National Park is located beside the town of Killarney, County Kerry, Ireland. It was the first National Park established in Ireland, dedicated in 1932, and encompasses 25,425 acres of diverse landscapes and ecosystems. Composed of the Lakes of Killarney, Oak and Yew woodlands of international importance, and mountain peaks, this varied region has some of the best scenery in Ireland and is a popular tourist destination.
Lakes in the National Park
The Lakes of Killarney National Park are Lough Leane (the lower lake), Muckross Lake (the middle lake), and the Upper Lake. There are boat trips to Innisfallen Island on the Lower Lake and to Dinis Cottage on the Middle Lake. For superb views of the lakes and Killarney Valley, take a drive from Killarney Town along the Kenmare Road. There are many historic sites in the area as well, one of which is Ross Castle.
Exploring the National Park
A great place to start exploring National park is the Muckross Estate and Gardens, 5km south of Killarney Town on the Ring of Kerry. Walking and cycling are a great way to see the National Park. There is plenty of surfaced tracks in the Muckross, Knockreer and Ross Island areas of the park. Bicycles can be rented in and around Killarney Town.
There are several rare species of animals and plants, including Ireland's only remaining native herd of Red Deer and the Killarney Fern, which grows in the splashzone of waterfalls and other damp places. The flora and fauna here are incredibly diverse and many of the rare species are actively conserved by the National Park status of the region. This makes it an excellent holiday destination for wildlife lovers, bird watchers and botanists, and also anyone interested in nature.