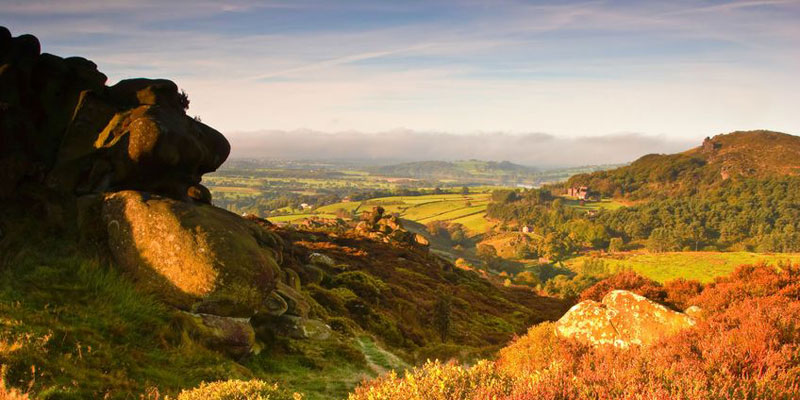 The Peak District
The Peak District in England is hugely popular with walkers and holiday makers and has a good selection of holiday accommodation to act as a base for those enjoying the scenic landscape. Derbyshire villages include Buxton, Bakewell and Ashbourne.
Explore The Peak District
The Peak District is an upland area in central and northern England, lying mainly in northern Derbyshire, but also covering parts of Cheshire, Greater Manchester, Staffordshire, and South and West Yorkshire. Most of the area falls within the Peak District National Park, whose designation in 1951 made it the earliest national park in the British Isles.
An area of great diversity, it is conventionally split into the northern Dark Peak, where most of the moorland is found and whose geology is gritstone, and the southern White Peak, where most of the population lives and where the geology is mainly limestone-based.
Activities in The Peak District
The Peak District provides opportunities for many types of outdoor activity. An extensive network of public footpaths and numerous long-distance trails (over 3000 km in total), as well as large open-access areas, are available for hillwalking and hiking. Bridleways are commonly used by mountain bikers, as well as horse riders.
Staying in The Peak District
From five star luxury hotels in the Peak District, to quaint Peak District bed and breakfasts and fabulous self-catering cottages in the Peak District. There are also many excellent campsites and caravan parks. There is a huge range of attractions, places to eat and other activities to suit all tastes.
So come and discover the beauty and tranquillity of the Peak District.