Dartmoor
Dartmoor in Devon is an area of beautiful rugged moorland popular with holiday makers throughout the year. Dartmoor has a great range of holiday accommodation, attractions, restaurants, pubs and things to do and beautiful villages like Chagford.
Dartmoor Holiday Accommodation

Dartmoor is an area of moorland in the centre of the
Devon
, and has protected National Park status. The moorland is capped with many exposed granite hilltops (known as tors), providing habitats for Dartmoor wildlife. The highest point is High Willhays, 621 m above sea level. The entire area is rich in antiquities.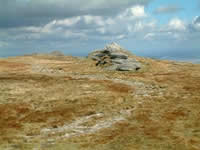 .

There are plenty of great places to stay and lots of interesting things to do
The Moor takes its name from the River Dart, which starts as the East Dart and West Dart and then becomes a single river at Dartmeet.
The levels of rainfall on Dartmoor are considerably higher than in the surrounding lowlands. With much of the national park covered in thick layers of peat, the rain is usually absorbed quickly and distributed slowly, so that the moor is rarely dry.
In some areas, where water accumulates, dangerous bogs or mires can result. Some of these, topped with bright green moss and known to locals as 'feather beds', will shift (or 'quake') beneath your feet — the result of pockets of air trapped beneath the surface.
Another consequence of the high rainfall is that there are numerous rivers and streams on Dartmoor. As well as shaping the landscape, these have traditionally provided a source of power for moor industries such as tin mining and quarrying.
Parts of Dartmoor have been used as a military firing range for over 200 years. The public enjoy extensive access rights to the rest of Dartmoor, and it is a popular tourist destination.
Dartmoor abounds with myths and legends. It is reputedly the haunt of pixies, a headless horseman, a mysterious pack of 'spectral hounds', and a large black dog. During the Great Thunderstorm of 1638, Dartmoor was even said to have been visited by the Devil.
Many landmarks have ancient legends and ghost stories associated with them, such as Jay's Grave, the ancient burial site at Childe's Tomb, and a rock pile called Bowerman's Nose.
A few stories have emerged in recent decades, such as the 'hairy hands', that are said to attack travellers on the B3212 near Two Bridges.
Dartmoor has also inspired a number of artists and writers, such as Sir Arthur Conan Doyle in The Hound of the Baskervilles, Eden Phillpotts, Beatrice Chase, Agatha Christie and the Reverend Sabine Baring-Gould.
We are currently in the process of updating this page for Dartmoor. If you would like to contribute material or pictures to this, please email us.

In the meantime, please just click on the links below for the full range of holiday accommodation, from high quality hotels near Dartmoor, to nearby Dartmoor bed and breakfasts and guest houses. There are also a good range of self-catering cottages around Dartmoor. There is a wide range of attractions, places to eat and other activities to suit all tastes in and around Dartmoor.
Lovetoescape.com aims to provide a one-stop shop for holiday makers by providing easy an easy to use directory and information portal for all types of holiday accommodation and attractions in the UK.