Exmoor
Exmoor is a beautiful area of south west England in Somerset and Devon, and includes some great coastline as well as moorland. The towns and villages of Exmoor include Porlock and Dulverton and these have great holiday accommodation and attractions.
Exmoor Holiday Accommodation

Exmoor National Park is one of two National Parks in the South-West of England, the other being Dartmoor. It covers 267 square miles of the beautiful rolling Devon and Somerset countryside. It also includes 34 miles of coastline, which was declared a Heritage Coast in 1991.


As well as the natural beauty of Exmoor itself, there are many towns and villages to explore in the area, including Porlock, Dulverton, Lynton, Wheddon Cross, and nearby villages such as Umberleigh, South Molton, Minehead.
The Exmoor landscape inspires wonder and beauty throughout the year, with snowdrops and bluebells in springtime, glorious purple and yellow heather in the summer, through to the quiet snow covered beauty of the winter.


Exmoor is home to a wide variety of flora and fauna, and the wildlife to be seen include deer and the famous Exmoor ponies. The extensive woodlands on Exmoor are a sight to behold, especially in the autumn months, and stretch far as the coast in places.
Exmoor is an ideal holiday destination for the outdoor enthusiast, with the coastline catering for climbers and cavers, and the Coastal Path and the moors providing miles of footpaths, including the 630 mile South West Coast Path which starts at Minehead.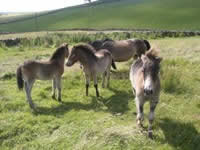 For more information on Exmoor, please visit the official Exmoor National Park website.
We are currently in the process of updating this page for Exmoor. If you would like to contribute material or pictures to this, please email us.
In the meantime, please just click on the links below for the full range of holiday accommodation in Exmoor, from hotels near Exmoor, to nearby high quality Exmoor bed and breakfasts and Guest Houses, and Superb self-catering cottages around Exmoor. Exmoor also has a wide range of attractions, places to eat and other activities to suit all tastes.
Lovetoescape.com aims to provide a one-stop shop for holiday makers by providing easy an easy to use directory and information portal for all types of holiday accommodation and attractions in the UK.